Jaih Craddock,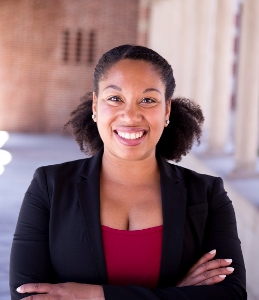 Assistant Professor, Family Medicine
School of Medicine
Ph.D., University of Southern California, 2019, Social Work
M.S.W., University for Southern California, 2015
M.A., San Francisco State University, 2012, Sexuality Studies

University of California, Irvine

Irvine, CA 92697

Short Biography
Jaih Craddock, PhD, MSW, MA is an Assistant Professor in the UCI School of Medicine, Department of Family Medicine. Dr. Craddock graduated from the University of Southern California, Suzanne Dworak-Peck School of Social Work with a dual MSW/PhD degree and San Francisco State University with a Master's in Sexuality Studies. She is committed to understanding the impact of digital technologies on human development and social interaction and using this work to decrease HIV-related health disparities and enhance HIV interventions. Dr. Craddock's principal scholarship leverages social networks and network dynamics to decrease new HIV incidences among at-risk populations, and she is engaging young Black adults in the development and testing of a mHealth-based HIV preventive intervention for young Black adults. Currently, Dr. Craddock is a scholar of the Columbia School of Social Work's HIV Intervention Science Training Program (HISTP) and the UCLA HIV/AIDS, Substance Abuse and Trauma Training Program (HA-STTP). She has also received two Career Development Awards, one from the University of Maryland, Baltimore Institute for Clinical and Translational Research and another through the Society of Family Planning.
Publications
Adams, V., Gladden, A., & Craddock, J. (2022). Perceptions of health among Black women in emerging adulthood: Alignment with a Health at Every Size perspective. Journal of Nutrition Education and Behavior, 54(10), 915-923. https://doi.org/10.1016/j.jneb.2022.07.004

Dorsey, M., Craddock, J., & Howell, T. (2022). "I don't really need you. I got a body that's going to get me what I need": A case study on sexual autonomy and agency through camming and social media engagement among Black young adult females. Journal of the Society of Social Work and Research. (Online First) https://doi.org/10.1086/719849

Craddock, J. B., Kingori, C., & Franke, N. (2022). Associations of social network characteristics and dynamics and individual risk factors with HIV testing, condom use, and interest in PrEP use among young Black women. Archives of Sexual Behavior, 51(5): 2473–2483. https://doi.org/10.1007/s10508-022-02306-7

Jolles, D. R., Montgomery, T. M., Breman, R. B., George, E., Craddock, J., Sanders, S., Stapleton, S., Bauer, K., & Wright, J. (2022). Intersectional associations between place of birth preferences and maternal and newborn outcomes within the American Association of Birth Centers Perinatal Data Registry, 2007-2020. Journal of Perinatal and Neonatal Nursing, 36(2): 150 -160. https://doi.org/10.1097/JPN.0000000000000647

Craddock, J. B., Adams, V., Gladden, A., Nettey, B., & Ajenifuja, O. (2021). "Black families don't talk about it": Young Black women's perceptions of mental health communication in Black communities. Journal of the Society for Social Work and Research. (publish online first). https://doi.org/10.1086/716188

Craddock, J. B., Mangum, L. C., Aidoo-Frimpong, G., & Whitfield, D. L. (2021). The associations of HIV pre-exposure prophylaxis (PrEP) interest and sexual risk behaviors among young Black women. AIDS Patient Care and STDs, 35(7), 263–269. https://doi.org/10.1089/apc.2020.0259

Finigan-Carr, N., Craddock, J. B., & Johnson, T. (2021). Predictors of condom use among system-involved youth: The importance of sex ed. Children and Youth Services Review. 127, 106-130. https://doi.org/10.1016/j.childyouth.2021.106130

Mangum, L., Craddock, J. B., & Whitfield, D. L. (2021). Associations in preventive sexual health service utilization and pre-exposure prophylaxis (PrEP) interest among young Black women in the United States, 2018. AIDS Care. (publish online first). https://doi.org/10.1080/09540121.2021.1925213

Gomez, A. M., Downey, M. M., Carpenter, E., Leedham, U., Begun, S., Craddock, J., & Ely, G. (2020). Advancing reproductive justice to close the health gap: A call to action for social work. Social Work, 65(4), 358-367 https://doi.org/10.1093/sw/swaa034

Craddock, J. B. (2020). Sexual health communication among young Black women and their social network members. Journal of the Society for Social Work and Research, 11(4). https://doi.org/10.1086/711701

Craddock, J., Barman-Adhikari, A., Massey Combs, K., Fulginiti, A., & Rice, E. (2020). Individual and social network correlates of sexual health communication among youth experiencing homelessness. AIDS and Behavior, 24, 222-232. https://doi.org/10.1007/s10461-019-02646-x