Diu-Huong Nguyen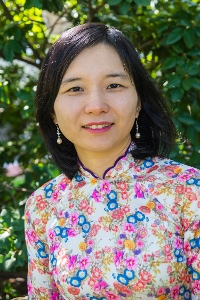 Assistant Professor, History
School of Humanities
Ph.D., University of Washington, Seattle, 2017, History
M.A., University of Washington, 2011, History
M.A., Ohio University, 2010, Southeast Asian Studies

University of California, Irvine
200 Murray Krieger Hall
Mail Code: 3275
Irvine, CA 92697

Research Interests
Viet Nam; Southeast Asia; social history; oral history.
Websites

Appointments
Chancellor's Postdoctoral Fellow, Department of History, University of California, Riverside
Visiting Assistant Professor, Department of History; Mellon Postdoctoral Fellow, John B. Hurford '60 Center for the Arts and Humanities, Haverford College.
Research Abstract
Histories of the mid-twentieth century conflict in Viet Nam thus far have focused largely on macro-level political and military realities with scant attention to everyday on-the-ground life of those most actively affected – particularly the experiences of ordinary civilians as both participants in and victims of the war. My current book project – Eve of Destruction: A Social History of Viet Nam's Royal City, 1957-1967 – illuminates how war transformed society and the daily life of residents of the imperial city of Hue in central Viet Nam from the establishment of the University of Hue in 1957 to the start of the Tet Offensive in late January 1968. Relying on both written and oral historical sources and extensive field research this grassroots history seeks to understand how the people of Hue lived through the decade culminating in the 1968 destruction of their city and to the extent possible, reconstruct the historical atmosphere of wartime Viet Nam based on what was considered significant to the locals.

In a similar vein, and drawing on a 2019 conference I organized at Haverford College, I am completing work on the volume Voices from the Everyday South: Civilian Lives During the Viet Nam War, which in edited versions of the conference presentations presents offers a wide range of personal narratives by ordinary Vietnamese civilians from diverse social communities and geographical regions, reflecting varied aspects of social and cultural life in the wartime South as they experienced it.
Publications
Books

Eve of Destruction: A Social History of Viet Nam's Royal City, 1957-1967 (in progress)

Voices from the Everyday South: Civilian Lives During the Viet Nam War (Co-edited with Alex-Thai Vo, in progress)
Articles & Book Chapters

Seeds of Activism: Hue's "People of the Pagoda" and the Buddhist Mobilization of 1963 (under review)

Voices From The Center: Lap Truong and Imagining an Alternative Viet Nam (under review)

"John F. Kennedy through the Lens of a Divided Vietnam" (with A. Lillie) in Globalizing the U.S. Presidency: Postcolonial Views of John F. Kennedy, Cyrus Schayegh ed., Bloomsbury Academic, 2020.

"Hue Prepared for a Holiday, Then the War Came," New York Times series "Vietnam'67," February 2, 2018, https://www.nytimes.com/2018/02/02/opinion/hue-prepared-for-a-holiday-then-the-war-came.html

"The Diversification of State Power: Vietnam's Alternative Path toward Budget Transparency, Accountability, and Participation" (with J. Warren) in Open Budgets: The Political Economy of Transparency, Participation, and Accountability, Sanjeev Khagram, Archon Fung, & Paolo de Renzio, ed. Washington, DC: The Brookings Institution Press, 2013.

ABC-CLIO's Medal of Honor Encyclopedia -- America's Heroes: Medal of Honor Recipients from the Civil War to Iraq, James H. Willbanks, ed. Santa Barbara: ABC- CLIO, 2011.
Publications in Vietnamese

"Co nhung ngay 30/04 truoc nam 1975 'khong nhuom mau chien tran'," BBC Vietnamese, April 2021, https://www.bbc.com/vietnamese/forum-56886545

"Viet Nam Cong Hoa, 1955-1975: Kinh Nghiem Kien Quoc," US-Vietnam Review, September 2020, https://usvietnam.uoregon.edu/viet-nam-cong-hoa-1955-1975-kinh-nghiem-kien-quoc/

Ke Chuyen Thang Long Ha Noi [Stories of a Thousand-Year History of Ha Noi] (with assistants), five vols. Ha Noi: Kim Dong Press, 2010, reprinted 2012, 2014-2017.

"Hoi Bac Ky Cong Thuong Dong Nghiep va Van De Bao Ve Quyen Loi cua Gioi Tu San Viet Nam" ["The Association of Industrial and Commercial Employees of Tonkin and the Protection of the Rights of Vietnamese Asset Owners"] (with Pham Xanh). Tap Chi Nghien Cuu Lich Su [Journal of History Studies] Issue 381, Vol. 1, January 2008, 10-20.
Grants
Mellon/American Council of Learned Societies (ACLS) Dissertation Completion Fellowship; Hanuaer Dissertation Fellowship, University of Washington; Chester William Fritz Humanities Scholarship, University of Washington; Florence Tan Moeson Fellowship, Library of Congress.