Rodrigo Lazo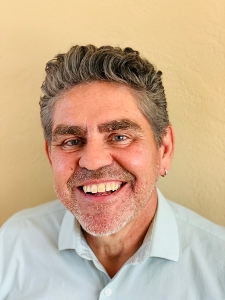 Professor, English
Interim Vice Chancellor for Equity, Diversity, and Inclusion
Ph.D., University of Maryland, English
M.S., Columbia University, Journalism
B.A., Occidental College, History

University of California, Irvine
3114 Humanities Gateway
Mail Code: 2605
Irvine, CA 92697

Research Interests
American Literature; Latino Studies; Nineteenth-Century US Literature and Culture; Hemispheric American Studies; Immigrant/Migrant Fiction
Websites

Research Abstract
My research is in American literature, broadly conceived across the Americas, and focuses on writers and texts that are concerned with migration, movement, geographic displacement, and communication across distance. This includes a variety of figures in both the nineteenth century and the contemporary moment - from Herman Melville to Juliana Delgado Lopera, whose recent novel Fiebre Tropical brings a Spanish flair to the English language. My latest book, Letters from Filadelfia: Early Latino Literature and the Trans-American Elite, focuses on Spanish-language writing published in Philadelphia in the early nineteenth century and offers a detailed study of a hemispheric public sphere that veers away from the excessively Anglophone and Anglocentric conceptions of traditional American literature and culture. You can also see my work in an edited collection of articles called The Latino Nineteenth Century, which brings together prominent scholars working in the archival recovery and comparative textual analysis of writing by Latinos and Latinas who lived in the United States from the late eighteenth to the early twentieth centuries. This year I am teaching a course on Indigenous literature.

My service to the university and profession includes significant administrative work. I am interim vice chancellor for equity, diversity and inclusion. In the past, I have served as an associate dean in the Graduate Division and the School of Humanities. From 2016-2019, I directed the Humanities Core Program, a yearlong introduction to the humanities for first-year students. My professional service includes serving on various editorial boards and associations. I am currently president of C19: The Society of Nineteenth-Century Americanists.
Short Biography
I was born in Guayaquil, Ecuador, lived in Puerto Rico for a couple of years and then moved to Los Angeles at the age of 8. Before becoming a professor, I attended Columbia University's School of Journalism and worked as a reporter at the Miami Herald. I came to UC Irvine in 2004 and found that the most rewarding part of academia is teaching and and helping students with their research and writing. In 2012, I was honored to receive an award from the UCI Associated Graduate Students for my contributions as a mentor.
Publications
NEW BOOK:

Letters from Filadelfia: Early Latino Literature and the Trans-American Elite. University of Virginia Press, 2020.
Edited Collection

The Latino Nineteenth Century. NYU Press, 2016
Book:

Writing to Cuba: Filibustering and Cuban Exiles in the United States. University of North Carolina Press, 2005.
Selected Articles:

"The Invention of America Again: On the Impossibility of an Archive" American Literary History 25 (2013): 751-771.
"Confederates in the Hispanic Attic: The Archive Against Itself" in On Moving Ground. Edited by Dana Luciano and Ivy Wilson (NYU Press, 2014)
"Migrant Archives," in States of Emergency. Edited by Russ Castronovo and Susan Gillman. 2009.
"Oscar Hijuelos, Writer of Work," in Contemporary U.S. Latino/a Criticism. Edited by Lyn Di Orio Sandin and Richard Perez. 2007.
"La Famosa Filadelfia: The Hemispheric American City and Constitutional Debates," In Hemispheric American Studies. Edited by Caroline Levander and Robert S. Levine. 2008.
"'So Spanishly Poetic': Moby-Dick's Doubloon and Latin America," in Ungraspable Phantom: Essays on Moby-Dick, ed. John Bryant, Mar K. Bercaw, and Timothy Marr. (Kent State, 2005)
"Filibustering Cuba: Cecilia Valdés and a Memory of Nation in the Americas," American Literature 74 (March 2002): 1-30.
"Los Filibusteros: Cuban Writers in the United States and Deterritorialized Print Culture" American Literary History 15 (January 2003): 87-106.
Grants
National Endowment for the Humanities, 2001-2002
Recovering the US Hispanic Literary Heritage Project, 1997
Historical Society of Pennsylvania, 2005
Professional Societies
Modern Language Association
American Studies Association
Latin American Studies Association
Melville Society
American Antiquarian Society
Other Experience
Associate Dean of Humanities
UC Irvine 2007—2010

Director, Humanities Core Program
UC Irvine 2016—2019

Associate Dean of the Graduate Division
UC Irvine 2020—2022