Matthew N. Beckmann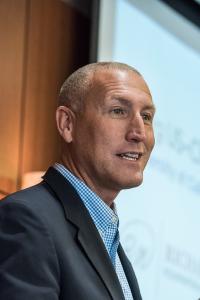 Associate Professor, Political Science
School of Social Sciences
Faculty Director, UC Irvine's Capital Internship Program
Ph.D., University of Michigan

University of California, Irvine
3151 Social Science Plaza
Mail Code: 5100
Irvine, CA 92697

Research Interests
Presidency, Congress, Interest Groups, Mass Media & Politics
Research Abstract
Matthew N. Beckmann is an Associate Professor of Political Science at UC Irvine, where he studies Washington politics, particularly those involving the White House. He is author of "Pushing the Agenda" (Cambridge University Press, 2010), which reveals the systematic strategies presidents employ to influence Congress and the factors that determine when those strategies work – or don't.

Beckmann's current book project (entitled "Tick-Tock on the Oval Clock") investigates how presidents manage the two most pressing challenges: time and people. Specifically, by modeling presidents' central challenge as identifying optimal policy options under different political conditions, Beckmann shows how presidents structure their schedules and deliberations to efficiently make good decisions. Predictions are tested against archival records of presidents' minute-by-minute activities for all presidents from Kennedy to Bush 43.

Matthew N. Beckmann received his B.A. from UCLA and his Ph.D. from the University of Michigan.
Publications
2010. "Pushing the Agenda: Presidential Leadership in US Lawmaking, 1953-2004."
New York: Cambridge University Press.
www.cambridge.org/9780521162913

Forth "Researching the President's [Redacted]." Congress & the Presidency

2017 "A President's Decisions and The Presidential Difference," in Leadership in American Politics. Eds. Jeffrey Jenkins and Craig Volden. Lawrence, KS: Kansas University Press.

2017 "Targeting the Treatment: The Strategy Behind Lyndon Johnson's Lobbying." Legislative Studies Quarterly 42(2): 211-234. (with Neil Chaturvedi and Jennifer Rosa Garcia)

2017 "Did Nixon Quit Before He Resigned?" Research & Politics 4(2): 1-7.

2016 "Up the Hill and Across the Aisle: Discovering the Path to Bipartisanship in Washington." Legislative Studies Quarterly, 41(2): 269-295.

2013 "Elite Interviewing in Washington: Political Science's Methods in a Practitioner's World," in Interviewing in Political Science Research. Ed. Layna Mosley. Ithaca, NY: Cornell University Press. (with Richard L. Hall)

2012 "Critical Dialogues." Book Review of Matthew Green's "The Speaker of the House" and a response to his review of "Pushing the Agenda." Perspectives on Politics 10(4): 999-1003.

2011 "Opportunism in Polarization: Presidential Success in Key Senate Votes, 1953-2008." Presidential Studies Quarterly 41(3): 488-503. (with Vimal Kumar)

2011. "How Presidents Push, When Presidents Win: Locating Presidential Power in Congress." Journal of Theoretical Politics 23: 3-20. (with Vimal Kumar)

2008 "The President's Playbook: White House Strategies for Lobbying Congress."
The Journal of Politics. 70(2): 407-419.

2008 "Navigating the Legislative Divide: Polarization, Presidents, and Policymaking in the US." Journal of Theoretical Politics 202(2): 201-220. (with Anthony J. McGann)

2007 "The Policy Opportunities in Presidential Honeymoons."
Political Research Quarterly 60(2): 250-262. (with Joseph Godfrey)

2002 "Where You Live and What You Watch: The Impact of Racial Proximity and Local Television News on Attitudes about Race and Crime." Political Research Quarterly 55(4): 755-781. (with Franklin D. Gilliam and Nicholas A. Valentino)

2001 "What Leads to Voting Overreports? Contrasts of Overreporters to Validated Voters and Admitted Nonvoters in the American National Election Studies." Journal of Official Statistics 17(4): 479-498. (with Robert F. Belli and Michael W. Traugott)

2001 "When the Frame is the Game: Revisiting the Impact of 'Strategic' Campaign Coverage on Citizens' Information Retention." Journalism and Mass Communication Quarterly 78(1): 93-103. (with Nicholas A. Valentino and Thomas A. Buhr)

2001 "A Spiral of Cynicism for Some: The Contingent Effects of Campaign News Frames on Participation and Confidence in Government." Political Communication 18(4): 347-367. (with Nicholas A. Valentino and Thomas A. Buhr)
Research Centers
Center for the Study of Democracy